Many eyes, but only one pen
Clients are more than welcome to draw on the plentiful resources from our one-stop shop: from the complete package to the individual ad hoc solution, our 'many eyes, one pen' principle guarantees consistently correct results that will also bring a satisfied smile to your face when reading between the lines.
Annual reports
Every figure must be accurate; every full stop must be in the right place. Errors in annual reports are more than embarrassing. That is why accuracy is of paramount importance when undertaking corporate communication jobs – despite the express tempo.
Translation management
We would have been on top of things in Babylon. We proved this when we were given the task of simultaneously translating texts into umpteen different languages. A stress-free experience for the client, an error-free experience for the target audience – worldwide.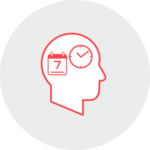 Daily business
Daily business sounds much more unremarkable than it often actually is – when an agency's wide-ranging text requirements push it to the limits of its internal resources, for example.